For decades, there have been arguments and debates in watering holes all across the United States and Canada about who the best shooter in the National Hockey League.   Thanks to Travis Yost of TSN, we now have an answer to this debate and it will please Chicago Blackhawks fans.
Yost came up with a unique formula to determine exactly who the best shooter in today's NHL is.
"I took data from the last three seasons (minimum 150 shot attempts) and plotted out two items – the number of shots each forward generated per game at 5-on-5, and the net number of goals added above expectations (per-100 shots). A forward who consistently beat shot quality expectations would have a big positive number – a forward who consistently underwhelmed shot quality expectations would have a big negative number."
After Yost combined the numbers of the volume and shot quality he was able to come up with his list of the best shooters in the league which is topped off by none other than Patrick Kane and it isn't even close!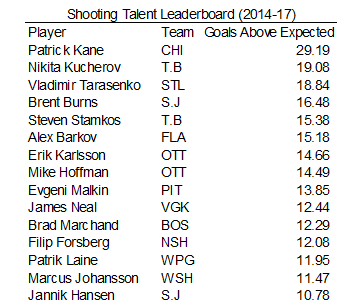 Source: TSN
Image Credit: AP